Store for software applications
At Element26, Inc., we also have experience designing specialized applications that help you solve problems. Some are only for Mac, while others will work on any platform with a web browser. If you need a custom application to accomplish a particular task, contact us for a free consultation.
Volume
Limiter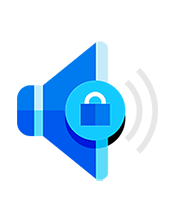 Volume Limiter boasts unparalleled, sophisticated volume-control technology to limit the volume on your Mac.
Whether you're frustrated by alerts from text messages coming in at night, want prevent your child from raising the volume, or just trying to protect your ear drums, this app is for you.
The list of audio devices to limit can be fully customized, and a built-in "Mute Mode" is also included. Mute Mode allows you to automatically mute your system volume based on certain events (like when you are away from your computer). There is also a Mute Schedule that allows you to automatically mute based on a weekly schedule. Now, you can be fully in charge of the volume level at your computer.
There is an *optional* feature (requires a separate download) that also enables system-wide volume control, which can be controlled by an administrator. Once the settings are locked, the volume limit will be enforced even if the menu bar app is closed or deleted.
Public libraries, corporate environments, testing centers, computer labs, coffee shops, and anywhere else that ambient noise levels are an issue can now be completely controlled with this app.
Compatible with Apple OS X/macOS 10.10-10.15+.
Product can be downloaded immediately after purchase.
Current version: 1.0 (Updated 9/2019)